Adels Connectors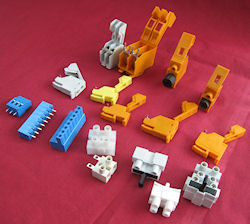 ADELS offers a broad range of transformer connectors that favorably compare with those sold by Phoenix Contact. The connectors have a a snap-foot that allows quick attaching to either separate mounting rails or bobbins with molded in mounting rails.
For detailed specifications please visit
the ADELS Web Site at
www.adels-contact.de.
For quotations and samples please contact us at info@bwdarrah.com or phone us at
1-630-584-1900.