Weisser Terminal Rails
WEISSER Terminal Rails are molded from glass filled nylon and are used to affix snap-on terminal connectors to transformers. The connectors clip onto the terminal rails to facilitate user installations.
These terminal rails are designed to mount on the transformer lamination stack and although the rails are configured for metric bobbins, the elongating the mounting holes make them easy to mount on most USA lamination sizes.
WEISSER also offers some bobbins with the Terminal Rails molded as an integral part of the bobbin. These are the EI 60 – EI 150N MS Style, the EI 60 – EI 192 MS-UL and the UI 39 – UI 150 MS-UL.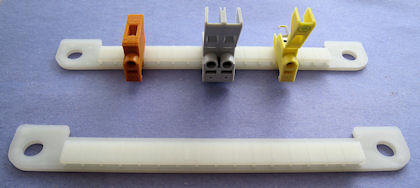 For detailed dimensions on the standard WEISSER Terminal Rails please refer to the WEISSER Catalog.
WEISSER has an On-line Catalog where you can find details about these bobbins.
For pricing details and/or samples please contact B. W. Darrah, Inc. at info@bwdarrah.com and give us the Art. Nr. from the WEISSER catalog. If you need any help please call our office at 1-630-584-1900.