Adels Contact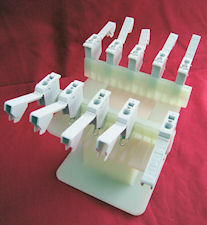 ADELS connectors can be mounted on mounting rails that are affixed to the lamination stacks or they can be affixed direct to WEISSER Bobbins that are produced with an integral mounting rail.
The WEISSER bobbins with the Terminal Rails are the EI 60 – EI 150N MS Style, the EI 60 – EI 192 MS-UL and the UI 39 – UI 150 MS-UL.
You can find details on these bobbins in the WEISSER On-line Catalog.
For detailed specifications please visit the ADELS Web Site at www.adels-contact.de.
For quotations and samples please contact us at info@bwdarrah.com or phone us at 1-630-584-1900.