Center Cutters
These Center Cutters are available to be purchased from our online Cutting Tool Store at www.BWDarrahTools.com. If you do not see what you are looking for, please contact us and we will help you to find the best tool for your application.
Center cutters have the cutting edge exactly in the center of the blade material, thereby providing the greatest amount of support for the cutting edge. This can extend blade life. These cutters are ideal when cutting wires that do not need to be trimmed close to an edge.
Co-Bolt Center Cutters
Co-Bolt cutters all have ergonomic designed handles for operator comfort and the cutting heads are forged from high performance Chrome-Vanadium steel, oil-hardened and tempered. The cutting edges are induction hardened to approximately 64 HRC. The lever action design provides exceptional cutting performance with minimum effort resulting in a quality tool that will last and last in extreme service applications.
KN7101-200

The KN7101-200 is capable of cutting up to 5/32" diameter hard wire and is ideal for intermittent cutting applications.
KN7112-200

The KN7112-200 replaces the very popular KN7111-200. The major change is that this tool now comes with increased contact surface on the handles for better distribution of hand force and comfortable operation. Capable of cutting up to 5/32" diameter hard wire this cutter is ideal for repetitive cutting because it offers spring return to the open position.
KN7131-200

The 7131-200 (with notch) is capable of cutting up to 5/32" diameter hard wire, but the "notch" makes it almost magic. The problem when cutting larger diameter wires with a hand cutter is that the wire tends to slip to the tip of the cutter where it is very difficult to make the cut. The "notch" secures the wire being cut at the location of most leverage allowing you to make the cut with minimum effort.
High Leverage Center Cutters
KN7491-250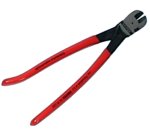 The 7491-250 has precision cutting edges for soft, hard and piano wires. Capable of cutting up to 9 gauge hard wire with minimum effort due to the optimum co-ordination of the cutting edge angle and the transmission ratio.