Cutting Tools for Extreme Applications
All of these cutting tools are imported, primarily from Europe, and have been selected for their ability to stand up to rigorous, industrial applications. Some of the offered tools are capable of cutting extremely hard spring wires, hard alloy chains and other extreme applications.

These tools come in a variety of side cutters, end cutters, center cutters, specialty combination cutters and bolt croppers. One thing they all have in common is the ability to cut extremely hard wires without shortening the tool life. Most had cutters, except for bolt croppers, are limited to cutting up to about 1/8" diameter hard wire; however, one unique tool, our 7131-200 8" long center cutter, is capable of cutting up to 5/32" diameter hard wire.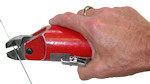 In repetitive cutting applications, where even an ergonomically designed manual cutting tool may lead to carpel tunnel or other operator impairment, a pneumatic cutting tool may be your best option. With several different size industrial-grade pneumatic cutters available, these tools are capable of cutting very fine wires up to diameters of ¼". These pneumatic cutters are designed for industrial applications to withstand rugged service.

When cutting larger diameter hard wire or hard alloy chain the only option is hydraulic operated cutting tools. These come in a variety of configurations some of which can cut up to 1" diameter spring wire or 1 3/8" diameter chain.
If you have a specific cutting need and would like our recommendation as to which of our tools would be best suited for your needs please give us the details of your cutting application and we'll be pleased to give you our suggestions.