Hydraulic Cutting Tools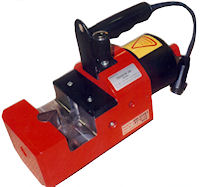 When cutting wire over ¼" diameter, the smart choice is a hydraulic cutting tool. The basic rule of thumb is that hand tools can be used for up to 5/32" diameter wire, pneumatic tools up to ¼" diameter wire and anything over that is best cut using hydraulic cutting tools.
These hydraulic cutters use special Swedish steel for the cutting blades which stands up well to hard wire applications such as those encountered in the spring industry.
There are three basic types of standard cutters available; Scissors Pinch Type, Standard Pinch Type (used for both hard wires and chain cutting), and Square Cut shears.
Because many spring makers use our hydraulic cutting tools we also offer a unique Spring Trimmer which is used to trim the end springs after coiling.
Besides the hydraulic wire cutters we also offer specialty cutters.
For more information on any of these cutters and for prices and quotations please contact us at info@bwdarrah.com or call us at 1-630-584-1900.