Rod Straighteners & Benders
The hydraulic operated Rod Straighteners are ideal for straigntening the leading end of coiled stock to make it easy to insert the material into a cold heading, wire drawing, or any processing machine.
Normally the Straightener is suspended over the coiled material with a Balancer and each sequence straightens about 23 cm of stock. The Straightener is then slid down the coil and pulling the activation trigger straightens another 23 cm. To view a quick video demonstration of the straightening process click here.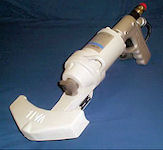 Staighteners come in two configurations, a standard unit that operates with a 345 BAR Hydraulic Power Unit (Catalog 140) or a light weight, smaller Straightener that operates with a 690 BAR Hydraulic Power Unit.(Catalog 145)
The Standard Straightener is available in two sizes, the largest of which will straighten up to 51mm diameter mild steel. Please refer to Catalog Page 130 for more details.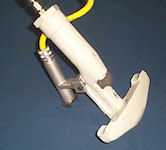 The High-Pressure Straightener has a capacity up to 25mm and for these smaller applications is ideal because of its light weight. It is easy to position without the use of a Balancer which give the operator more flexibility in use. Please refer to Catalog Page 135 for more details.
Which ever Straightener configuration is selected please note that it is best to use one of the smaller hydraulic power sources with a lower flow as this allows the straightening ram to move slower and gives the operator greater control over the process.
Rod Benders
Rod Benders are used to bend rod for various applications, including recoiling bar. Most Rod Benders are custom designed to meet specific applications.
Vale Industries, Inc. designed, built and delivered some special high-capacity rod benders where they are being used to put 90° angles in 40mm Ø reinforcing bars that have one end embedded in a concrete pile. The rod benders are hydraulically operated and are portable enough so that the workers can position them to accurately make the required bends.
The photographs show these benders in operation on the project site.