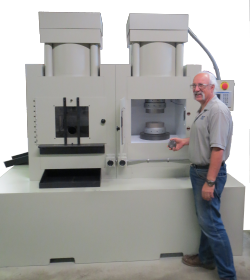 Upset Tester: VU5B
Vale Industries, Inc. has just built and shipped the largest and most accurate Upset Tester to one of the most important Steel Mills in Asia.
This 580 ton capacity system is capable of upsetting 76mm diameter material. The total system weighs in excess of 12,000 kg and stands over 2.25 meters tall.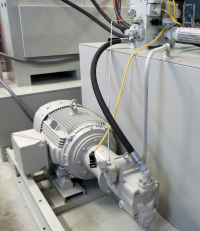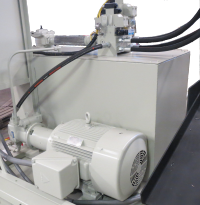 Powered by two 74.5 kW electric motors the hydraulic pumps deliver 150 Liters/minute to the Shear and Upset Presses.
A large oil reservoir insures a stable operating temperature and unique hydraulic circuity softens operation and reduces noise levels. Accuracy of +/-0.125 mm and repeatability are maintained through the use of digital technology which also offers simplified operator interface control.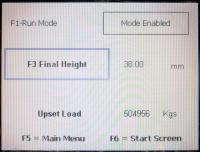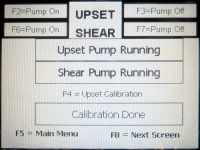 Touch screen technology coupled with site-proven, proprietary software make operator interface easy and error free. The operator can select either the percentage of upset required or alternately the final height of the upset sample at the touch of the screen. The massive Shear Press accommodates the use of multiple different shear die sets to cut test samples up to 76mm diameter. With this press the samples are cut to DIN Standards for sample length.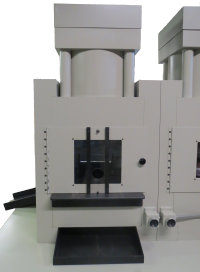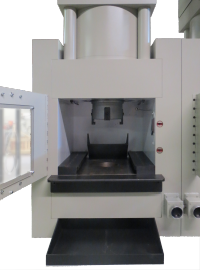 Tooling is of unitized design for easy and fast change and is automatically properly aligned in the Shear Press when inserted. Anvils are reversible and easily sharpened for extended tool life.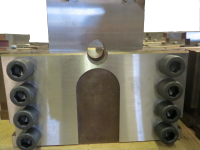 The Upset Press is equally impressive in size and function. The upset function operates at high speed until the final 12mm stroke at which point speed is reduced to insure absolute accuracy and repeatability.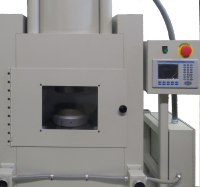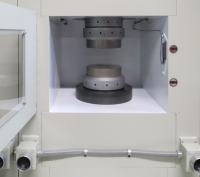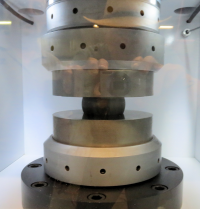 Upper and lower upset platens are made of hardened tool steel to insure quality samples and long life. Both platens are identical and interchangeable by means of locking collars.